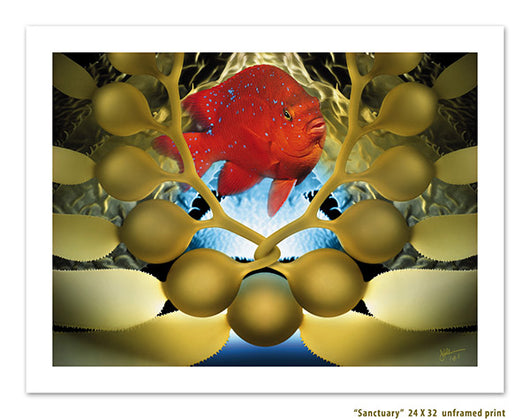 "Sanctuary" Limited Edition - 1 of 1
Jim Hellemn
Regular price $1,295.00 $515.00 Sale
25X32 Limited Edition Giclée - Unframed
Inventory Clearance  |  SAVE over 60%. 
"Sanctuary" is a digital creation, made in 2001 by Jim Hellemn, using two striking source images captured expertly on professional transparency film by renowned underwater photographer Marty Snyder.  The Garibaldi and Giant Kelp images were scanned on a Howtek D4000 drum scanner and composited in Adobe Photoshop 6.0, using a little digital magic to duplicate and intertwine the kelp, illustrating a juvenile Garilbaldi safely nestled in the protection of its California Kelp Forest home.  
The print is made on Roland 8 color Hexachrome giclee printer using the highest resolution archival inks on acid free art paper. Only one print was ever made - remaining safe in the archives until now.
Fine art giclee print, satin finish - unframed, 1 inch border
25x32 print, Limited Editon - 1 of 1
One of a kind by the artist, Jim Hellemn
Signed and numbered by the artist
Shipped flat 
Free Shipping (US only)